BERETTA 486 BY MARC NEWSON
What happens when the oldest firearms company in the world offers the design of the most traditional and elegant shotgun – the side by side – to Australian Industrial Designer Marc Newson?
A masterpiece is created.
The 486 by Marc Newson is a respectful re-interpretation of the traditional side by side with an innovative technological solution: the wood-bridge. Thanks to this original design, the safety catch is no longer a remote mechanism on the end of the receiver, but is now seamlessly set into the high-grade walnut, almost like a bridge, creating a beautiful element of distinction.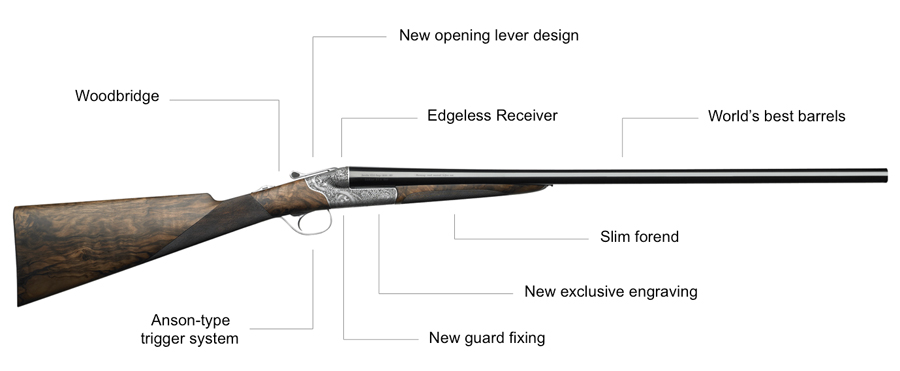 Woodbridge
The traditional tail of the receiver has been lowered allowing the wood to separate the receiver and the safety/selector like a wooden bridge over the steel.
This unique design makes the 486 by Marc Newson extremely elegant and instantly recognizable.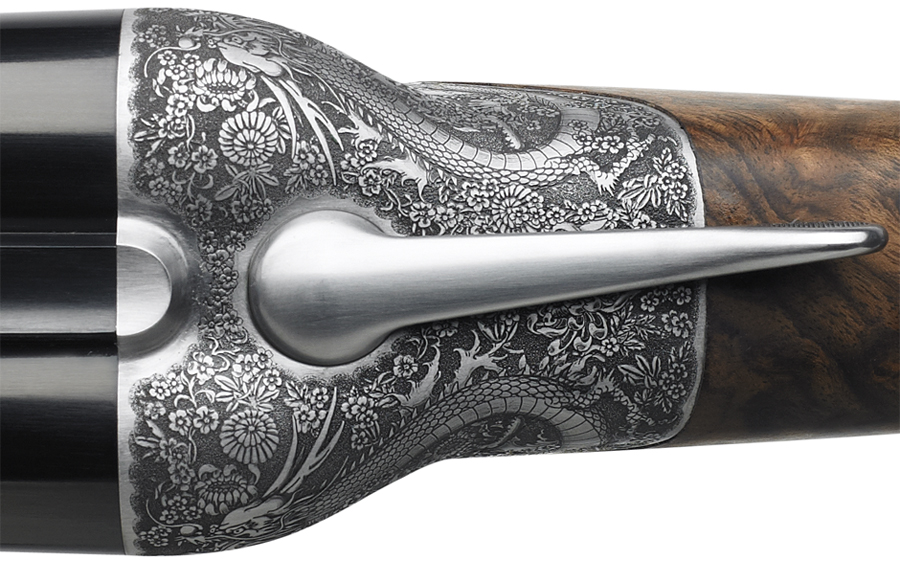 Edgeless receiver
The traditional design of side by side shotguns has always been very simple and elegant.
Over the years, the "round body" design has been introduced to emphasize the slimness and lightness of the gun.
Marc Newson has used the characteristics of steel and modern machining to elevate the concept of the "round body", bringing it to a new level.
The receiver is edgeless and the lines flow through the entire surface of the shotgun with no sharp edges or breaks.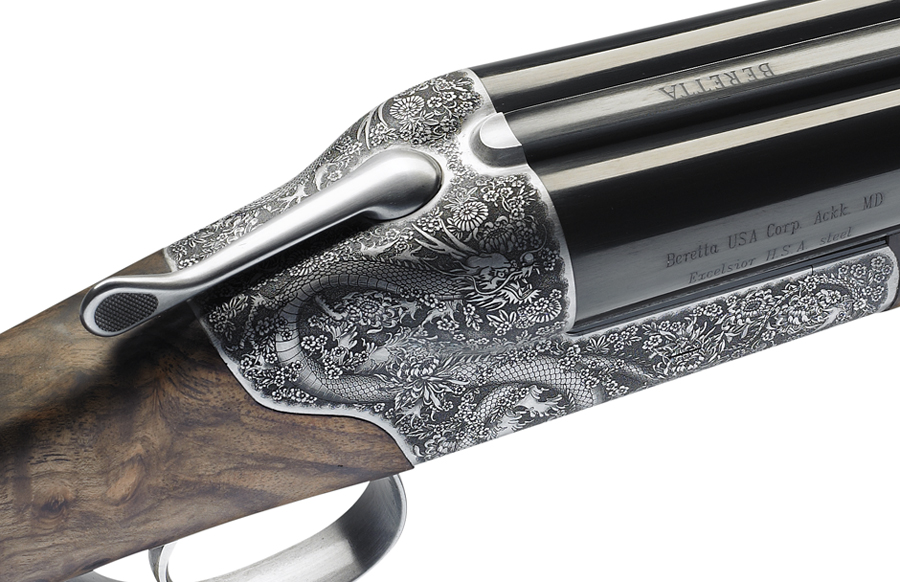 Engraving
The engraving is a clear homage to Asia as the homeland of the pheasant.
This unique design is made possible by the high-tech laser technology used in the manufacturing process.
This ensures the best texture wrap over the entire surface of the receiver and also allows for a deep contrast and sharp resolution in all the details of the engraving.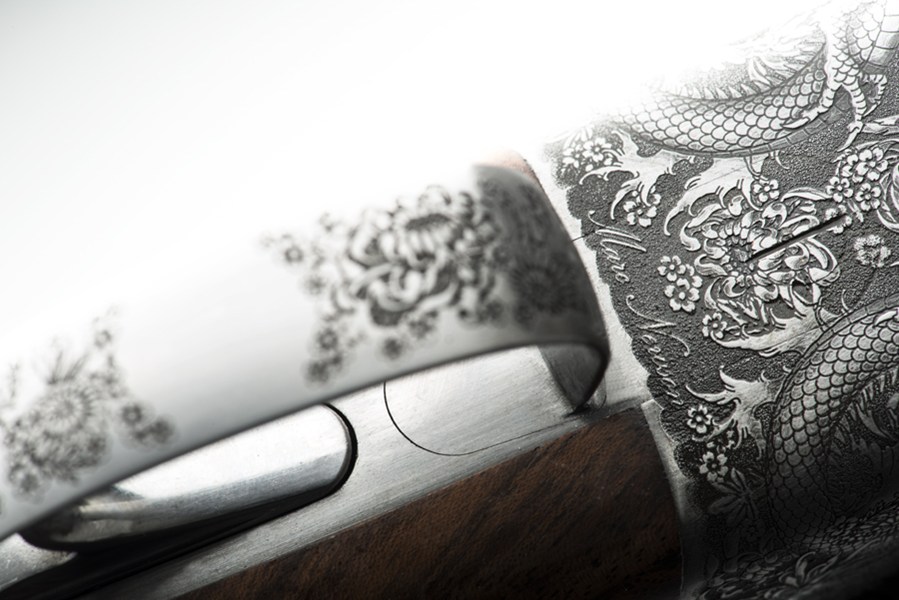 World's best barrels
The cold-hammer forged Beretta OptimaBore barrels are built to be tough and to last for generations.
Moreover, the Triblock technology makes the barrel truly elegant by eliminating the welding lines.
The hand-made polishing gives the surface the perfect finish, typical of the most refined shotguns.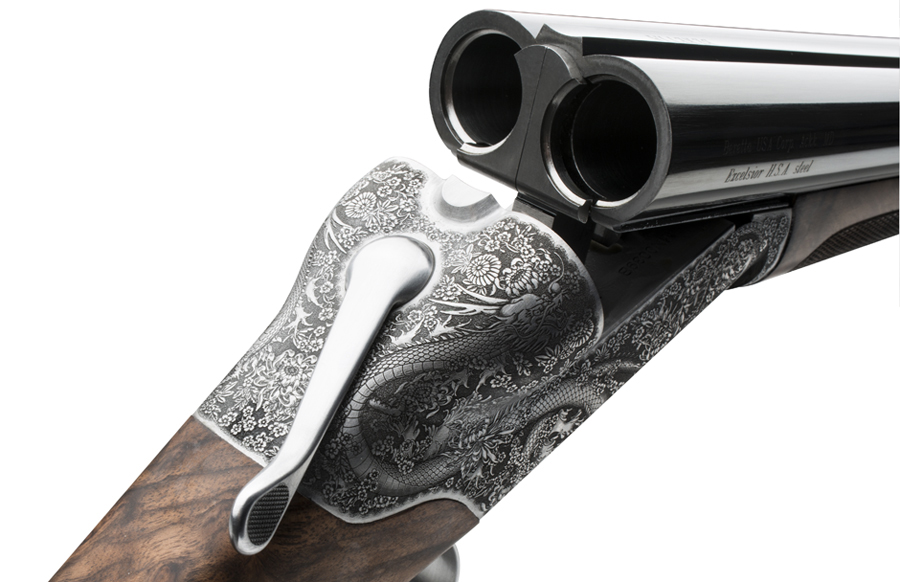 New opening lever design
This element has been specially conceived to emphasize its independence from the rest of the shotgun.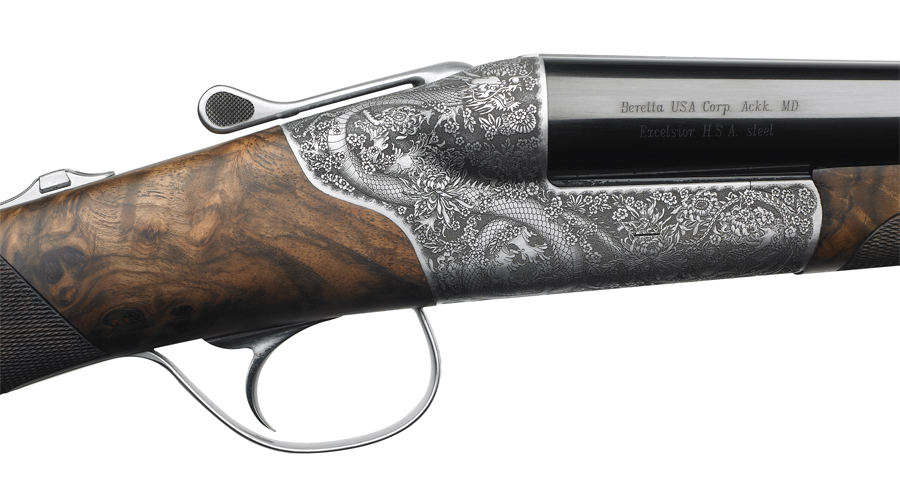 New guard fixing
Another distinctive feature is the fixing of the trigger guard to the receiver.
While most shotguns screw the guard to the bottom of the receiver, the 486 by Marc Newson inserts the trigger guard into a milled guide.
The result is a perfect junction of two surfaces, which creates a higher aesthetic value.

Slim forend
The forend of the new 486 by Marc Newson is leaner and more streamlined, while the coupling point between the receiver and the forend iron has been reduced to a minimum.

Trigger system
The trigger system is an Anson type, with leaf springs.